Let me share some of my thoughts about Council's Nov. 12 final vote on the water sale:
"I think it was no certain thing, around Labor Day, that the water sale referendum was going to win as handily as it did. I express my thanks to City staff, my Council colleagues, numerous citizen organizations, and to our City's print and online media outlets, for conducting an ambitious outreach and education effort on the referendum in September and October.
"All the efforts to share information, invite questions, and encourage citizen dialogue led to a community-wide consensus that the water sale and boundary adjustment is a good deal for our City and schools.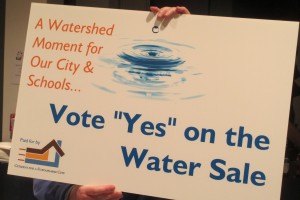 "On Tuesday night, I was pleased and proud to vote for the enacting ordinance to "annex and incorporate" land into the City of Falls Church — something that, as far I know, hasn't been done since the City was established in 1948. Mr. Tarter said it well: 'This is really a big thing for the City. It opens up extraordinary opportunities for economic development, and for the schools.'" http://bit.ly/17oaQRP